Trip Period
The trip will start on Monday, May 11th 2020 and end on Sunday, May 24th 2020, which makes a total duration of the trip of 14 days.
Application period
You will be able to apply between 15th of November 2019 and 15th of December 2019. You can find more information here.
Route
The trip will start in Bingen/Rhine and will end in Frankfurt/Main.
Our route will lead us around whole Germany – from the Rhine Valley to Lake Constance to the alps, through Central Germany up north to our Capital Berlin, to the coast and last but not least through the Ruhr Valley back to Frankfurt/Main.
You will have the opportunity to get to know many different areas of Germany, the culture and heritage of the people living there and meet local Rotaractors around the country.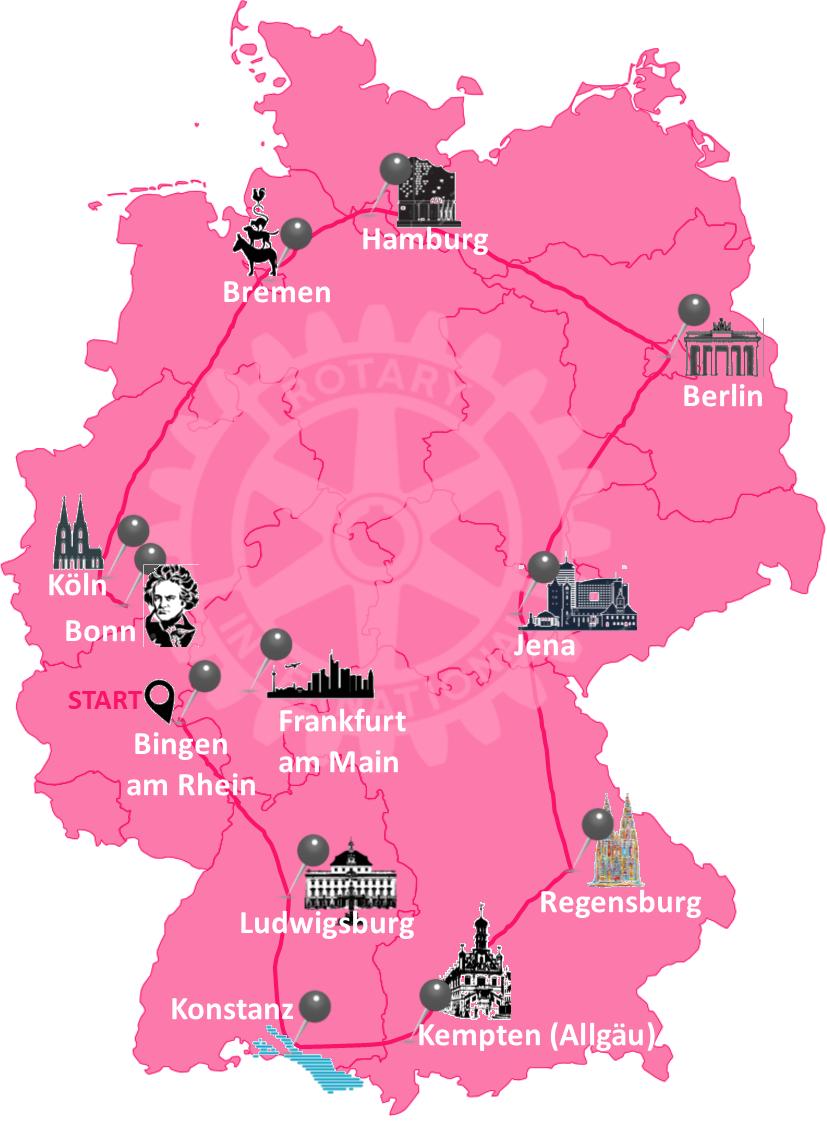 Number of participants
Ten Rotaractors from around the world, ages 18-30, will be invited to join us on our trip following a successful application process.
Physical Activity Advisory
As in Germany offers a lot of historic towns which are best to explore by feet, we'll be walking quite a lot. There's also planned a short hike in the alps, which is not too challenging, but you should be in generally good physical health condition.
Note: As our intention is to deliver the best Germantrip Experience, all successful participants are expected to participate in the scheduled activities to the best of their ability.
Price
Participation fee is 350,- EUR per person.
> What is included in the price?
transportation during the trip
basic meals (breakfast, lunchbox and dinner) and water
accommodation in private homes of Rotaractors or hostels
tour guide and selected events
> What is NOT included?
your flights to and from Germany
costs for your visa
your private expenses, for example: souvenirs, drinks at parties etc.
Please make yourself familiar with the Terms & Conditions.